This time of year is very happening because of Durga Puja, Dusshera and Dandiya. After witnessing the Durga Puja at Chitranjan Park two days ago, we now wanted to experience the Dusshera celebration of Delhi. To enjoy the real Delhi celebration, what is better than Old Delhi and we headed to Chandni Chowk.
One of the best things of Chandni Chowk is that in the short area there is Masjid, Temple and Gurudwara. There is a cross-cultural vibe all around it.
We set off from Chawri Bajar Metro Station to Lal Quila via Jama Masjid. There were people waiting on the sideways behind ropes. One child pointed at me and said 'Dekho, uncle humari photo le rahe hain' while I was shooting him and his friends. :D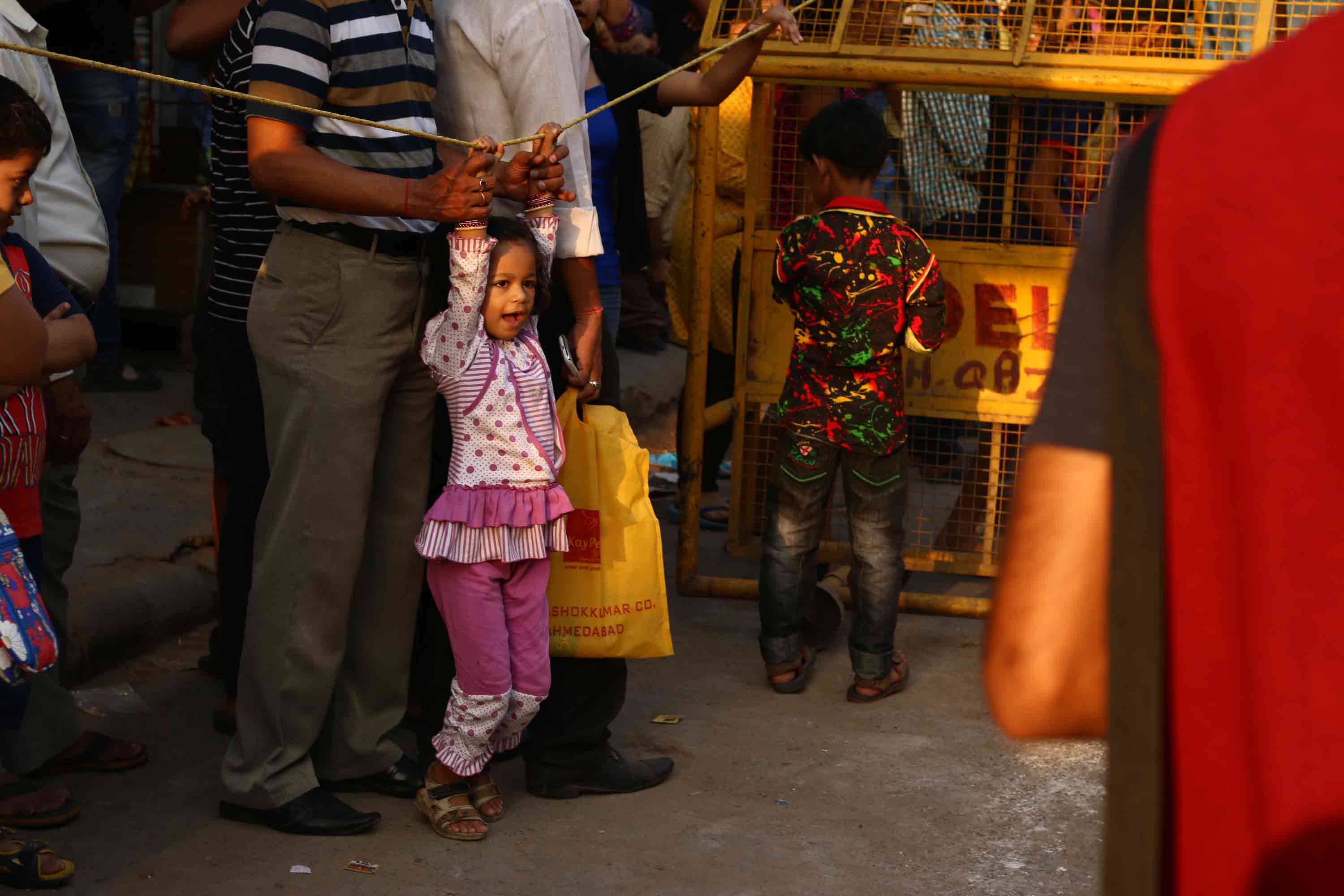 Kids were busy playing with ropes. There was a rally of different Ram Leela groups to pass through there.
Ram ji, Krishan Ji, Hanuman ji, all were there. Looking beautiful with their make-up and great outfits, they were giving great pose and a show to the spectators. Accompanying them there were instrument players and wagon pullers who were natural because everybody was busy watching the mystic Gods.
I clicked their photographs. They were very happy that some of them waved hands at me, some smiled and some shook hands. The desire of finding the natural celebration, it was achieved there.
It was a great day, interacted with the Lemon wala and got to know how he runs the Filtered water business, asked some kids what they were playing at stairs of Jama Masjid, wished Happy Dusshera to policemen.
The Fair ground near Lal Quila was so much crowded, yet we managed to get in and get out in half an hour.
Overall, essence of Dusshera for the day came out to be - There are 10 heads to feel negative but one God head to gain back all the positivity.
See my Photo Story at http://talestreet.com/explore/tale-of-street-of-old-delhi